Jim Morrow's Famous Pizza Margherita Recipe
Ingredients (makes two 12-inch pizzas)
6 ounces mozzarella
1 cup semolina flour
2 cups all purpose flour
1 1/3 cup warm water
1 tsp salt
1 package yeast or 2 tsp fresh bulk yeast
1 tbsp olive oil
One can diced plum tomatoes (preferably san marsano)
1 yellow onion
2 red bell peppers
Corn meal
Any desired toppings
A pizza stone is highly recommended.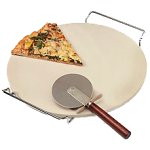 Making the Dough
Dissolve yeast in 1/3 cup warm water and let sit for five to ten minutes
Put flour in food processor or large bowl
Add yeast-water mixture to flour and mix for about ten seconds
Add salt and olive oil and mix for another ten seconds
Pour in remaining one cup of water and process dough for up to one minute
Knead dough for five minutes
Cover dough in olive oil and put it in a bowl to rise
Let dough rise for two to three hours or until it doubles in size
Making the sauce
Saute at low heat the diced onions and peppers for an hour
Add canned tomatoes and continue to saute at very low heat for
at least one more hour.
Baking the Pizza
Soak grated mozzarella for one hour in three tablespoons of olive oil
Heat pizza stone in oven for 30 minutes at 450-500 degrees
Split dough in half and flatten until it's about 12 inches in diameter
Put grated cheese on dough
Sprinkle on oregano and salt
Sprinkle corn meal on pizza stone
Put a pizza on the pizza stone and cook for about 15 minutes
Add toppings,sauce, and parmesean cheese and finish cooking
Enjoying the pizza
Pizza is best when shared with teaching assistants.
[Editor's note: this was written by Ernie, when he was a teaching assistant and later edited by Jim]
Barbecued Pork Shoulder
Dry Rub for Pork Shoulder
4 tbsp paprika
4 tbsp brown sugar
2 tbsp kosher salt
2 tbsp black pepper
2 tbsp ground cumin
2 tbsp chili powder
2 tbsp dry mustard
2 tbsp ground coriander
1 tbsp cayenne
Cooking Instructions
Rub shoulder all over and leave in refrigerator over night.
Barbecue in a covered barbecue, coals on one side, shoulder on other side for at least three hours. Temparature should be around 325 degrees.
Put shoulder in baking dish and seal with foil.
Continue cooking in oven at temperature of 300 degrees for seven to nine more hours.
Serve on buns with the following sauce:
1/2 cup white vinegar
1/2 cup apple cider vinegar
1/2 tbsp sugar
1/2 tbsp red pepper flakes
1/2 tbsp tabasco
salt and black pepper to taste
(Note, works best if shoulder is at least six pounds)
Tom Douglas' Salmon Rub (modified)
Mix together:
3 tbsp. brown sugar
2 tbsp. paprika
2 teasp. Kosher salt
1 1/2 teasp. black pepper
1/2 teasp. dried thyme
Potato Salad
Main ingredients
3 lbs. red potatoes, cut into 3/4 inch cubes, boiled in salted water for approximately 20 minutes.
1 sweet yellow onion, diced
Dressing
1/3 cup olive oil
1/3 cup seasoned rice vinegar
1 tsp. dijon mustard
2 tbsp. fresh chopped tarragon
1 tsp. black pepper
2 tbsp. fresh chopped parsely
Sour cream ice cream
Ingredients:
2 cups sour cream
1 cup plain yogurt
1/2 cup sugar
1/4 cup water
a little vanilla
What to do with ingredients:
Dissolve the sugar in the water over low heat.
Let cool for 15 minutes.
Slowly mix the sugar solution in the sour cream - yogurt mixture.
Chill in the refrigerator for 4 hours.
Pour the mixture in the cylinder of an ice cream freezer and churn acording to the maker's instruction ( takes 20-40 minutes).
Transfer the ice cream to a container with a tight fitting lid and freeze in the freezing compartment of a refrigerator for 2 hours (you might skip this step).