Parallelograms in the coordinate plane
Construct a figure like this one with Sketchpad using the following steps.
<![if !vml]>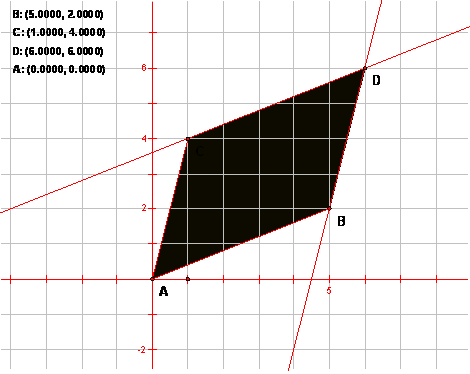 <![endif]>
In the graph menu,
Choose Define New Parameter, and make the parameter 1 cm.

 

Don't forget the unit!
With the parameter selected on the screen, choose Define Unit Distance.
Also, check the item Snap Points.
Then, letting A be the origin, draw segments AB and AC.  Construct a parallelogram ABDC.
Select all 4 points and choose Measure > Coordinates.

 

If the points have snapped properly, then the coordinates should all be integers.
Write down the coordinates of the points A, B,

C

, D.
Also, measure the equation of line CD.
Now let E be the intersection of the y-axis and the line CD (i.e., the y-intercept).  Construct point F so that ABFE is a parallelogram.
<![if !vml]>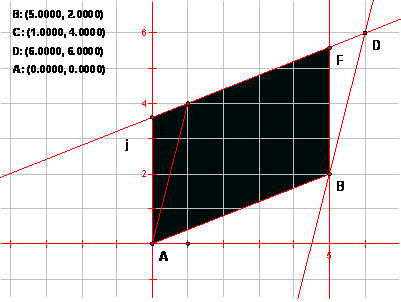 <![endif]>
Measure the areas of ABDC and ABFE.

 

How do they compare.

 

Why?
Using the segment AE as the base, what are the measures of the base and height of ABFE?
Getting a Formula
Now follow this same construction process but this time instead of numbers, use letters for the coordinates.  Let B = (a,b) and C = (c, d).
Find the equation of line CD and the coordinates of E.

 

Then compute the base and height of ABFE and find the area.
Then tell how this area compares with the original area of ABDC.
You should have a formula for the area of the parallelogram ABDC without doing a gruesome calculation involving the height of ABDC because you found the area of a simpler parallelogram with the same area.  You may find the expression in the formula looks familiar from another course.